A star­tup is like a new­born baby. The deve­lop­ment of a baby always fol­lows a cer­tain sequence: learn to eat, get the diges­tion sys­tem going, then craw­ling, wal­king, tal­king, run­ning, rea­ding, wri­ting etc. The first clo­se to 20 years of a human life are spent on just lear­ning the skills nee­ded to be a real, adult human being. And it always hap­pens in a cer­tain sequence.
You don't expect a 2 year old to be able to run a marat­hon, nor a 2nd gra­der to apply for a university.
Star­tups do fol­low a simi­lar kind of a deve­lop­ment. But that is poor­ly unders­tood (or accep­ted), resul­ting in "2nd gra­ders trying to get into a Uni­ver­si­ty, with the help of a rich dad" – in star­tup par­lance known as "pre­ma­tu­re sca­ling" (usual­ly fuel­led by foie gras funding).
Human babies and star­tups ali­ke should focus on deve­lo­ping skills that kids of their age are meant to. Even Wun­der­kinds who have special skills and are fas­ter lear­ners than most have to fol­low the same sequence, they may just advance fas­ter. "The Star­tup J Cur­ve" by Howard Love defi­nes a 6 sta­ge deve­lop­ment process a star­tup has to go through, in sequence, to make it to the finish line. A brief sum­ma­ry of the sta­ges can be found here
https://www.startupgrind.com/blog/the-startup-j-curve/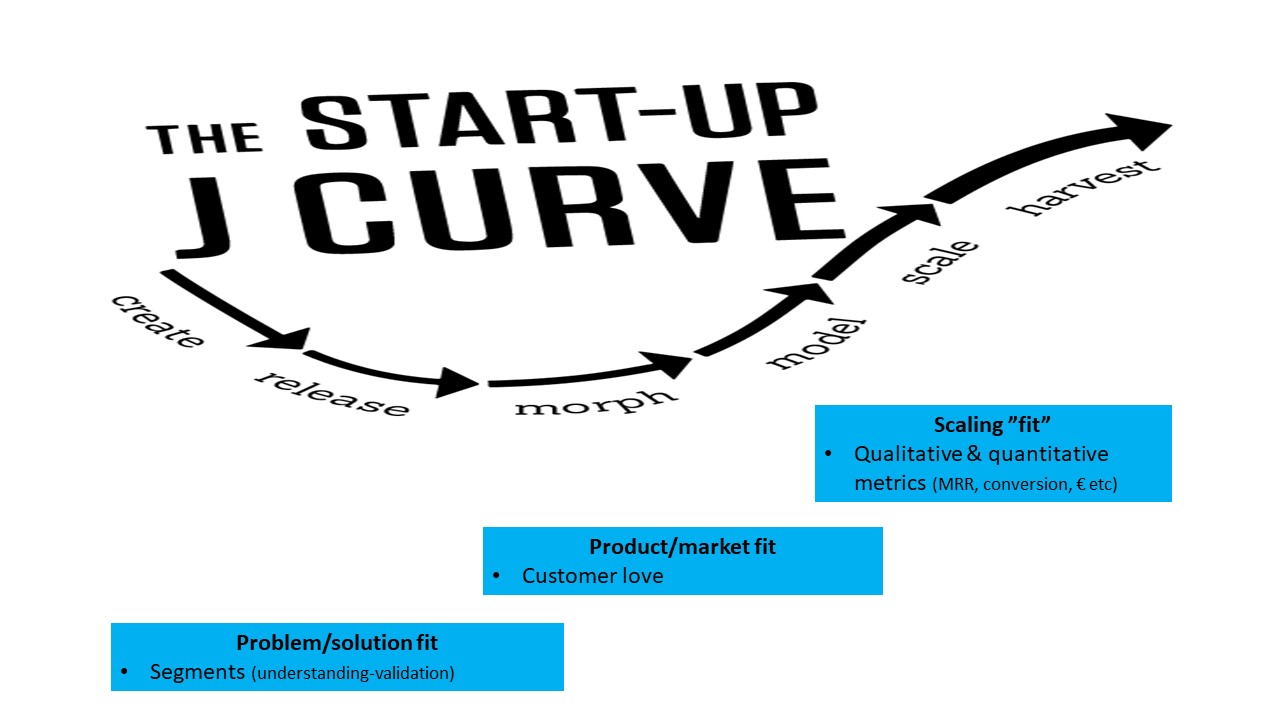 Eve­ry star­tup should iden­ti­fy their place on that cur­ve, and unders­tand what should and SHOULD NOT be on their prio­ri­ty agen­da whi­le at that sta­ge. And when are they rea­dy to move to the next stage.
One way to look at the sta­ges is as a star­tup Foun­der to do list:
Pro­vi­de evi­dence that the­re is a real busi­ness oppor­tu­ni­ty with real problem worth to sol­ve. (problem/solution fit)
Pro­vi­de evi­dence that a) you can build a pro­duct that does the job (pro­duct) b) you can find a mar­ket seg­ment that loves your pro­duct (mar­ket). (product/market fit)
Pro­vi­de evi­dence that you can build mea­ning­ful busi­ness. (busi­ness model)
Pro­vi­de evi­dence that your busi­ness is sca­lable. (rea­dy to scale)
You should move to the next item on the list only when you have tic­ked the pre­vious off. And expect to do a lot of ite­ra­tions – one step forward, half a step back. Some­ti­mes all the way back to squa­re 1.